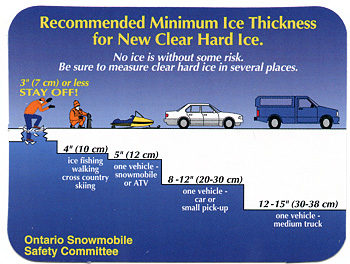 JUDGING ICE CONDITIONS


"Thick and blue, tried and true. Thin and crispy, way to risky."

The ice traveler should look for bluish ice that is at least 4 to 6 inches thick, in order to support people and their gear. Even if the weather has been below freezing for several days, don't guess about ice thickness. Check ice in several places. Use an auger, spud, or axe to make a test hole, beginning at shore and continuing as you go out.If ice at the shoreline is cracked or squishy, stay off. Don't go on the ice during thaws. Watch out for thin, clear or honeycomb-shaped ice. Dark snow and dark ice are other signs of weak spots.Choose small bodies of water. Rivers and lakes are prone to wind and wave action, which can break ice up quickly. Avoid areas with currents, around bridges and pressure ridges.In the wintertime, outdoor enthusiasts frequently need to know how thick the ice is and whether it is safe to walk across it. The American Pulpwood Association has published a hand reference chart that gives a good rule-of-thumb for ponds and lake ice thickness.


"Wait for a long cold spell, then test the ice thoroughly."